Sotheby's auction house – established in 1744 London – is holding its first auction for non-fungible tokens (NFTs) by anonymous artist 'Pak' which "scrutinizes our understanding of value."
"The Fungible" collection by Pak kicks off on Monday at 1pm EST for fifteen minutes, and will end on Wednesday the 14that 1:15 p.m. ET. To participate, bidders need to be on Nifty Gateway, an NFT marketplace operated by the Gemini cryptocurrency exchange founded by the Winklevoss brothers.
By leveraging blockchain technology and non-fungible tokens (NFTs), The Fungible not only provides collectors with novel assurances of scarcity and ownership, but exposes them to the unique features with which technology can endow artwork. Through this collection, Pak scrutinizes our understanding of value. What does value mean, and from where does it derive authority? Core to the collection is the Open Editions, which allow collectors to purchase as many fungible cubes as they wish during the sale period for a fixed price. As the collection reveals itself over the course of the sale, Pak continues to challenge the collector community with this question of value while simultaneously providing a unique journey into and through digital art. -Sotheby's
According to the auction house, Pak's "Fungible Cubes" will start at $500 each, and collectors will be able to buy as many 'cubes' as they want. Purchasers of fungible cubes will receive an NFT containing Pak's artwork.

Pak has been involved in digital art for more than two decades, founding the studio Undream and creating an AI called Archillect – designed to create 'stimulating visual media.'
"I see this collection as the first digitally native mindset of works that's presented to the traditional art world through a global auction house," Pak said in a statement released by Sotheby's, adding "With this kind of a scale, I expect it to play a major cultural role in telling the narrative of the digital world to the traditional world in terms of the medium definition and value creation. People may be able to right click save as a 'jpeg' but how would they save as a digital performance?"
Those interested in participating can click here, and will need to create an account on Nifty Gateway.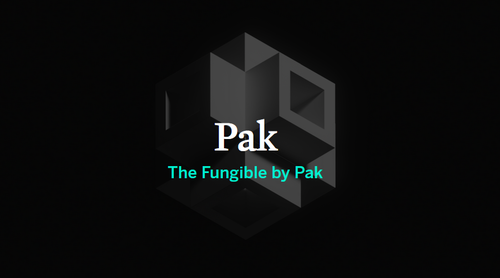 In the past several months, millions of dollars have been spent collecting rare NFTs. In March, artist Beeple sold an NFT collage for $69.3 million by Sotheby's rival, Christie's. That month, Sotheby's CEO Charles Stewart told CNBC that he decided to hold his first NFT sale with Pak because he's one of "the most established artists" in the space, adding that NFTs have "staying power."


Source link

#Sothebys #NFT #Auction #Kicks #Today